Brother Knights,
               On September 1, 2021, Brother Knight and Governor Pete Ricketts signed a proclamation declaring this week "Support Citizens with Intellectual Disabilities Week" in the state of Nebraska.  This coincides with our annual "Campaign for People with Intellectual Disabilities" drive, which is scheduled for this weekend, October 14-17.
               This year's campaign is extremely important as we continue to progress out of the pandemic.  Our 2020 campaign, like so many other things, was greatly impacted by COVID-19 and because of this our contributions to organizations throughout the state have been cut severely.  We are hoping to see a resurgence in the 2021 drive and be able to provide our high level of support to the many deserving organizations "Supporting People with Special Needs" in our state.
               As a reminder, if this weekend does not work for your council, you are free to select any dates that work for you to conduct the Campaign.  The Campaign Report and 100% of moneys received are du by January 31, 2022.  Both of these must be received so that your council is able to request a refund of up to 50% of your funds collected to be distributed to qualifying organizations of your choice.
               If your council needs any assistance with developing a plan to conduct your 2021 "Campaign for People with Intellectual Disabilities" drive, please do not hesitate to contact us.  This year's Campaign may require your council to think of new ways to raise money based on restrictions that may exist at local business or through local governments.
               We would also like to urge all of our councils and knights to prayerfully consider a donation to "Project Lori."  This is an initiative being led by the wife of our State Deputy, Connie Richardson, to honor her late sister Lori who had special needs and a tradition started by their parents, Paul and Jan Hostert who are former Intellectual Disabilities Directors for Nebraska.  The aim of this project is to help provide Christmas gifts to children with special needs this holiday season.  More information on "Project Lori" will be coming to you and available on the state website (www.nebraskakofc.org).
               God bless you and your councils in all that you do for those with special needs in the state of Nebraska.
Sammi and Stephen Lowery
Intellectual Disabilities Directors
(402) 540-1670
sglowery82@gmail.com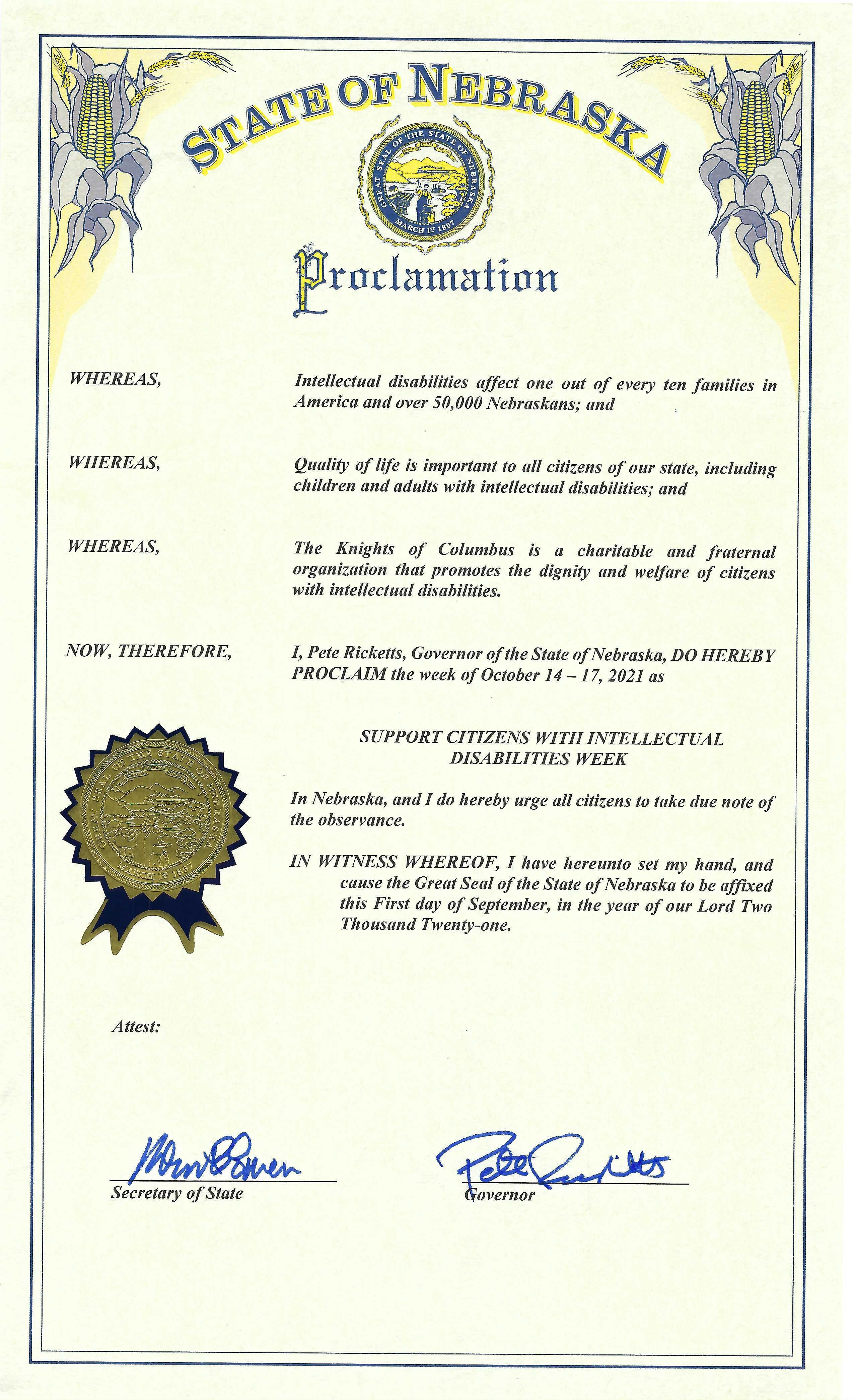 ---
Forms