Ready to Join?
Click the button above to begin the process of joining the Knights of Columbus.
You will be redirected to a website to join online.
You can also talk to your Pastor to get in touch with your local council to join.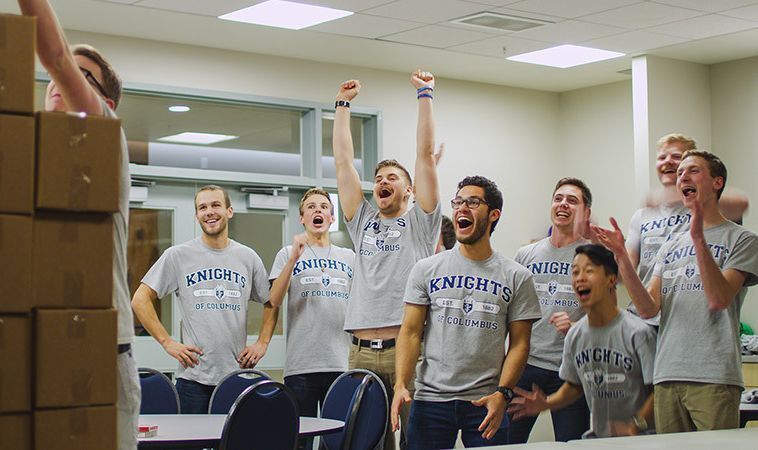 $100 Gift Card Giveaway for New Members
Looking to join the Knights of Columbus and win a $100 Gift Card for a little extra spending money?
Its simple! Here's how to do it.
Be between the ages of 18 and 24
Join one of the 169 councils across Nebraska

Join the council directly (through the online process or a Form 100)
Transfer membership from an online e-member to a council roster

That's it! You're in the drawing
Three drawings will be held this year.
Winners will be contacted following the drawings and gift cards will be mailed shortly after.
Check back here for more information on the drawings and announcements on winners.
---
Why Join the Knights of Columbus?
The Knights of Columbus is an international fraternal organization dedicated to faith, service, and brotherhood. As a Knight, you will be able to:
FORM LASTING FRIENDSHIPS with men who share your Catholic beliefs and passion for service.
SERVE THE CHURCH AND YOUR COMMUNITY through charitable programs and community initiatives conducted by your council.
GROW IN FAITH through prayer, the sacraments, retreats and small group discussions with your brother Knights.
AND SO MUCH MORE!
For more information about College Councils and what they do visit:
https://www.kofc.org/en/get-involved/college-councils/why-join.html
For more information about the Knights of Columbus check out more on our webpage or visit the Supreme Council Website.